Hey lovely lads and lass! I haven't done this in a while and I thought making a Classic Beauty post is a great idea before I post more of those food and what-not posts. Hahaha! This is actually a long over-due post and it has been in my drafts for quite a while now. I decided that the classic beauty I wanted to do a little review on is the elegant and regal beauty that is, Ingrid Bergman. If you know her, great! But if you don't know her, let me tell you a little something about Ingrid Bergman and why I made her one of my Classic Beauty post.
I'm sure some of you have seen her in
Casablanca
, a very famous classic film that's used in many cinema/film classes or maybe even in political classes since the film does have some political undertones in it. I actually watched Casablanca because of a political film class and since that time, I decided that I should make an Ingrid Bergman post on my Classic Beauty segment.
I hope you'll like the post and love Ingrid Bergman's beauty more.
:)
Ingrid Bergman was born in Stockholm, Sweden on August 29, 1915. Her mother had died when she was only 3 years old and her father cared for her till she was 12 for he too had died. She was then under the care of her aunt for a few months and then by her uncle after her aunt had died. Even at a young age, Ingrid already had an interest in film and acting. She had participated in school plays and even appeared as a film extra in her teens.
In 1933, after her formal schooling, Ingrid decided to take acting seriously and attended the Royal Dramatic School in Stockholm for a year, during this time she had also made her professional stage debut. Her first speaking role was in 1935 as a hotel maid that sold illegal liquor in Gustaf Molander's "Munkbrogreven". In 1936, Ingrid made a film that changed her life. "Intermezzo" was a film written and directed by Molander, tells a story of a famous violinist who has an affair with his daughter's piano teacher which was played by Ingrid. Her performance caught the attention of Hollywood film producer David O. Selznick. I guess you could say that everything after that was history.
One thing that sets Ingrid apart from other actresses back in her day was the freshness and natural beauty she exuded. Unlike most actresses during that era, Ingrid wore less make up and took on "wholesome" roles that made America love her more and more. She was not like some cabaret actress/singer or a woman that hides her true beauty under colorful make up and excessive jewelry. She was just Ingrid, just Ingrid. Her career span for five decades, winning 3 Oscars, 2 Emmys and a Tony Award.
Ingrid was a saint turned whore turned saint.
She transitioned from doing wholesome and goody-two-shoes roles to roles that are adventurous.
Her change of roles and public perception from loving wife and mother changed dramatically when she made career choices that were far from her previous roles and her relationship with Roberto Rossellini, even though she was already a married woman.
I have no regrets. I wouldn't have lived my life the way I did if I was going to worry about what people were going to say.
- Ingrid Bergman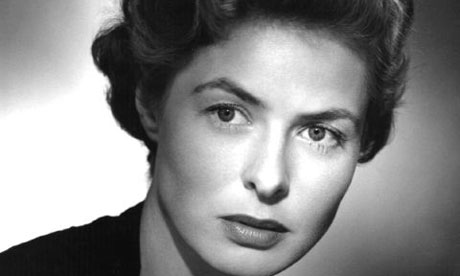 I remember one day sitting at the pool and suddenly the tears were streaming down my cheeks. Why was I so unhappy? I had success. I had security. But it wasn't enough. I was exploding inside.
- Ingrid Bergman
Facebook | Twitter | Formspring | Online Shop