The Golden Globes is done. Although I haven't watched it in full because I am only interested on who wore what, the pops and flops and just the general silhouette of the gowns that the celebrities have worn. I may not imitate their looks but I am very inspired by how they look. Believe it or not, I do love fashion. I can't say that it loves me though. Anyway, here are some of my favorite looks in the red carpet!
Angelina Jolie and Brad Pitt
My favorite celebrity couple, Brad and Angelina. I love their combo! She's so grounded and true while he's so chill and humane. They make a good couple and I always look forward seeing the two of them in the red carpet. It just gives me the butterflies.
:)
Kate Beckinsale
What can I say? Kate Beckinsale is a bombshell! I mean, can you see that lovely curves on her? She's a woman. A full-pledged woman that has form and not just a stick like some celebrities. I love her style and not to mention her look. I'm also excited for the showing of Underworld: Awakening!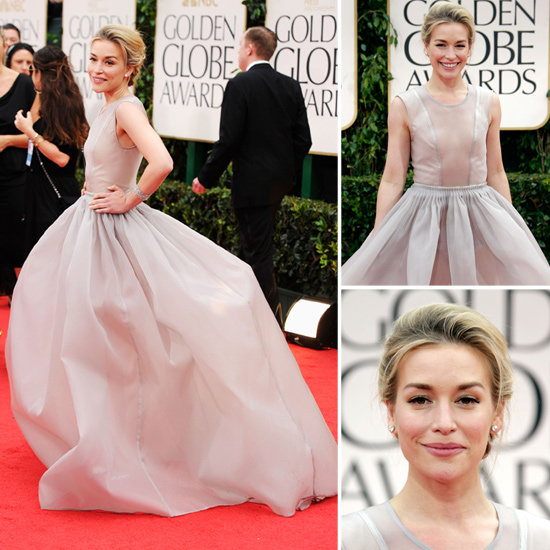 Piper Perabo
I have to be honest here. I didn't know who Piper Peroba was before this but don't hate me. I suck at names and I don't usually remember the names of actors/actresses in movies or series. I just know them by their screen name or the character names. So, don't hate!
Claire Danes
Claire Danes, what can I say? Her backless dress with stone/jewel embellishment is just to die for! If I had the figure like her or any other fit celebrity I would wear a backless dress like hers. It's something sexy and yet not too revealing. It's a teasing dress, in my opinion.
Stacey Keibler
George's new lover, Stacey Keibler is a total eye-candy. I remember watching her fight in the ring when I was in high school and I've always loved her. She has class and a sort of refined manners that not most wrestlers have. She's also very gorgeous and this dress is another example of not too revealing but very sexy. So, kudos to her!
Sofia Vergara
Sofia Vergara... I am speechless. She is a testament to the greatness of Latina beauty. She's sexy and she knows she's sexy. She flaunts but she leaves something for the imagination. I love her mermaid-like gown that is intricate and a work of art. I can just look at her and I can't help but smile. That's her effect on me.
Sofia Vergara
This piece on Charlize Theron is beautiful. It's daring and yet very regal and subtle. I love it! I think it has something to do with the color of the dress which makes her look like a princess. She is also really sporting the "nude" look that I really love. What I like about her look is that even there are no pops of color it's not boring or bland. It's just right and it is certainly elegant!
Charlize Theron
My new favorite young star, Emma Stone is gorgeous in her plum "rain" dress. I can really see her make it far in this industry and if she does it right, she'll have more awards. What I love about her is her elegance and her bad ass nature. Okay, I'm biased. I just really really really like her. Hahaha!
Emma Stone
Surprise. Surprise! Lea Michele shocked me with her pick-a-boo dress and for me it was a bit too revealing and mature for her but maybe this'll be good for her. She is growing into a very beautiful young woman and she needs more serious roles and maybe this change in wardrobe choices would be a step. But, we shall see that in the future!
:)
Lea Michele
I think I'll end this post here and let you guys decide what's your favorite outfit in the Golden Globes' red carpet. Comment below and share your thoughts on who's the best dressed is and who looked utterly wrong in the red carpet. Good bye for now!

Facebook | Twitter | Formspring | Online Shop