2012 has come and we are set for a new and fantastic year. I thought, why not make a "Fashion Inspiration" post since it is the start of the year. And so, here I am making this post. I decided that since Billie Piper was the last Fashion Inspiration on my blog I'll make the next one connected to her. I thought long and hard on this one and decided that Karen Gillan or the daring Mrs. Rory Williams or the beautiful Amy Pond will be my next fashion inspiration. I chose Karen Gillan because of a lot of reason but mainly because she is the current companion of the Doctor in my favorite show, Doctor Who.
There are a lot of this that is commendable about Karen Gillan's style and I think that being a lover of the classic silhouette is one thing. She likes to keep things elegant and yet quirky at the same time. I also love how her hair always looks so tousled and carefree yet so perfect. Then you add all of those things with her porcelain white skin, charming smile and seemingly awkward stance and you'll get something so extraordinary that you just can't help but adore her.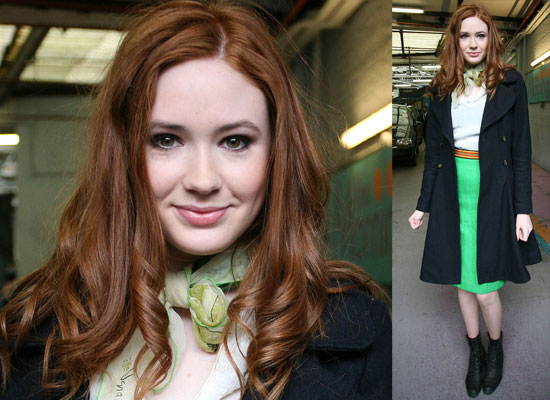 Another thing that I like about her is that she keeps it simple and comfortable. I noticed how she likes to wear flat shoes, combat boots and sneakers. She's the average girl living in a fabulous world. I also love how she can still look so fabulous in flats, a sweater and some stockings. I also like how she can always manage to put something as if it's just normal for her to do it. It's as if it's a normal and daily thing to do. I guess that's one reason why I love her. Her looks can be achieved without putting a black hole in your wallet.
Before I end this post, I just want to say one more thing why I like Karen Gillan's style. I think that her hair be it in a bun, let down straight and long or in a glamorous curl it always looks nice. When I see her I instantly go to her face and how her hair looks like. I see her sharp and calculating eyes. She's just an over-all package. She's the spunky, witty and very quirky companion of the Doctor, Amelia Pond. She's the girl who waited and she's waiting, in style mind you, for the Doctor to come back and come get her. The amazing Karen Gillan as Amy Pond, my fashion inspiration.
:)
What about you, what do you
think of Karen Gillan's style?
Like it? Hate it?
Let me know what you think
and comment below.
:)
| Facebook | Twitter |
| Formspring | Online Shop |